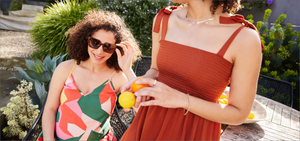 Our sustainable approach.
The biggest issue with preg fashion? It's often fast fashion. That's why we reimagined maternity wear with a simple idea: it works with a bump or without it. Our mission is to get you more wear, less waste from your wardrobe. We call it slow fashion for moms.
Design
A product's footprint? That's set right at the concept phase. It's why we made it our mission to design for longevity and maximum wear. Flexible fits, nursing functionality, easy care, and premium fabric — these design decisions all go into makin' clothes you'll love and keep around 4eva.
INVENTORY
Shocking stat: 12.8 million tons of clothing go to landfill each year. It's why we buy in smaller batches and invest in "safety-stock" to consolidate shipments to our warehouse. We also produce many of our best-selling basics locally in LA, and make it a practice to ship internationally via sea freight (airplanes pollute up to 30x more than cargo ships).
Fabric
Many of our most frequently used fabrics feature recycled or plant-based fibers. Ex: your fav denim and activewear are made from recycled water bottles, and our softest basics feature eco-friendly modal. We're always exploring new ways to utilize more planet-friendly materials, too.
MANUFACTURING
100% of our factories follow social auditing protocols such as BSCI or SMETA or they have attained a social compliance certification like WRAP or SA8000. This means they're committed to fair pay, safe working conditions, regular hours, and zero forced or child labor.
PACKAGING
Since packaging touches every product we make, we've reduced garment tags wherever possible and have converted everything to 100% recycled materials or responsibly sourced paper.
Wear it from now til forever, duh! But how you shop seriously makes a difference. Invest in staples you know you'll always wear — preg or not, outfit repeating is 100% encouraged over here. When you're finally ready to move on from your beloved pieces, keep them out of landfills by giving them a second life.